Hi, I'm Katie (Peterson) Warner. I'm a Catholic wife, stay-at-home mom, writer and speaker. I help family men and women learn the practical strategies and resources they need to take small steps toward becoming leaders at living more spiritual and meaningful lives, together with their families.
I'm also the author of Head & Heart: Becoming Spiritual Leaders for Your Family (Emmaus Road Publishing), a book that offers practical strategies and inspiring stories to help men and women learn how to more intentionally lead and love their family toward heaven. 
I'd love to stay connected with you and share more of my resources and tips on practical, faithful living, so make sure to sign up here to receive a free resource guide and other helpful emails!
A Little More About My Ministry Work
I write and speak about a variety of spiritual and practical topics, and have enjoyed presenting in venues like the National Catholic Bible Conference and numerous Legatus chapters, the Eucharistic Congress of Atlanta, EWTN radio, and on EWTN television. I was also blessed and excited to be a presenter for the Symbolon RCIA and Opening the Word programs produced by the Augustine Institute. You can find my written articles in places like Catholic Online, The Integrated Catholic Life, and the National Catholic Register.
In addition to my speaking and writing with my personal ministry, I work part-time (usually during nap times and into the late hours of the night) as the Manager of Communication and Evangelization for Catholics Come Home, a national Catholic evangelism apostolate working to invite fallen-away Catholics and non-Catholics home to the Catholic Church. I'm also the copywriter of CatholicsComeHome.org and the author of GoodConfession.com. I am also thankful for being able to contribute to the life-saving work of VirtueMedia, a pro-life apostolate that helps thousands of babies and parents escape the tragedy of abortion through pro-life television commercials.
I received my graduate degree in Catholic Theology, specializing in Evangelization and Catechesis, from the Augustine Institute in Denver, Colorado. I also have a degree in Communication and Professional Writing. 
My Family and Other Interests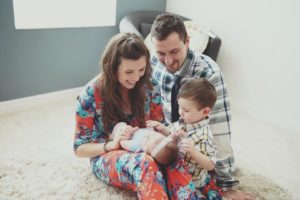 I'm married to a dashing and inspiringly sacrificial man, who also happens to be an Imagineer, which apparently a lot of people think is pretty cool. I'm the privileged mom to an energetic little boy who loves cars and Jesus and a sweet little gal who has the world's prettiest eyelashes. Some of my many loves include brainstorming, writing, cooking and cookbook perusing, exercising, reading, daily phone conversations with my mom, Archbishop Fulton Sheen, and the messy pursuit of sanctity.
About CatholicKatie.com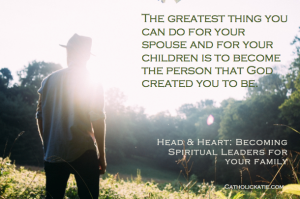 This website features some of my writing original to this site, links to my articles from various online and print publications, occasional book reviews, giveaways, and resources to help you take small but transformative steps to grow in holiness in your personal and family life. Some posts you may be interested in include: Five Things to Do With Your Catholic Child Everyday, Five Signs You May Not Be Loving Your Spouse As Well As You Could Be, Finer Things Night: Our Favorite Family Date, 7 Rosary Hacks for Catholic Families, The Engaged and Newlywed Book List, and How to Spice Up Conversation at the Dinner Table.
St. Francis de Sales said, "God takes pleasure to see you take your little steps." The goal of CatholicKatie.com is to create a little online space where others can come for quick inspiration or encouragement to move one step closer to sanctity.
Contact Me
Feel free to reach out to me via email or follow me on Twitter and Facebook, and, perhaps the best way to stay connected with me and what I do, is to sign up for my email list, where I will send you things that I think would be helpful to you, your family, and your spiritual life about once a week or biweekly.
I genuinely hope that you enjoy perusing my thoughts and that you find something useful here. Please know that I pray for all who stop by my site!